Frequently Asked Questions about FLEET
Thanks for visiting! We are more than happy to answer your questions directly, please feel free to contact us or call us at 217-288-2111 if you cannot find the answer to your question.
How do I scan?
Simply hold your device over the barcode. Your device will automatically focus itself, scan, and capture the VIN.
Rectangular Linear Barcodes:
Make sure the whole barcode is visible on the screen, and align the red guideline across the middle of the barcode. If you're having difficulty capturing the VIN, we recommend using a slow sweeping motion over the barcode, or slowly moving the mobile device closer and further away to get the optimal scanning angle across the full barcode.
Square Data Matrix or QR VIN Barcodes: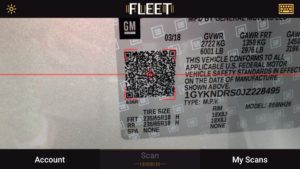 Center the barcode within the red square guidelines on the scan screen so that the whole barcode is inside the square. If you're having difficulty capturing the VIN, we recommend turning the phone vertically, as well as slowly moving the mobile device closer and further away to get the optimal scanning angle within the square.
Please note that Fleet only captures QR codes encoded with a 17-digit VIN. General QR codes will not scan.
If there is low-light, we suggest turning on the mobile device light using the flashlight icon in the top left of the scan screen.
If the barcode fails to scan, please send a photo of said barcode to info@pixovin.com.
If a barcode is not present, you may enter the VIN manually by tapping the keyboard icon at the top right of the scan screen.
How many custom fields can I add?
You can add as many fields as you would like. You can edit these fields from your account at any time.
How can I add dropdown values to my custom fields?
Improve the efficiency and consistency of your Fleet subscription by including dropdown values for your custom fields. Dropdowns will save you and your team many hours of typing in content, prevent typos, and keep entries consistent across vehicles.
Here is an example of dropdown values for a vehicle's custom field called "Color":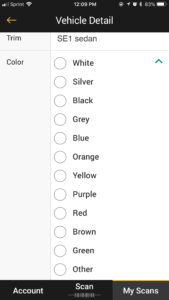 You can easily setup dropdown values in the app by going to Account, Manage Scan Details, and clicking the yello Add Custom Detail button at the top. Type in the name of your field (ex: Technician) and then click the round radio button in front of Quick Pick Options to add dropdown values for the field if you'd like (ex: Mary, John, Joe, Susan).
How do I export more than one scan?
To export or delete a group of scans, go to the My Scans tab and choose Select in the upper right-hand corner. You will then be able to select the vehicle scans and details you wish to export.
Where do I submit technical questions?
We love feedback and questions! Please contact us to submit technical questions or requests or call us at 217-288-2111.
How many users can use my FLEET subscription?
You can add as many users as you'd like to your FLEET subscription. The cost is $5/month per user. All users will see each other's scans. You can add new users in the app by going to Account, Manage my Fleet Subscription.
Is there a Web Desktop version of FLEET?
Yes. You can access the Desktop version of FLEET, called FLEET Manager, at https://app.pixovin.com/admin. 
How long is the free trial?
You have 14 days to try out the benefits of Fleet.
How do I cancel my free trial?
We're sorry to hear you won't be continuing use of Fleet. Once your free 14-day trial expires, you will no longer have access to the account. You do not have to take any action to cancel your trial.
We would love to hear why you are discontinuing use of our service, send us your feedback at info@pixovin.com.
How much does a subscription cost?
A FLEET subscription costs $39.99 USD/month. Additional users cost $5/month per user.
What do I get with a subscription?
With a subscription to FLEET, you get access to the app's full feature set: scan vehicle barcodes, add custom vehicle info, share and export data, and more! Your email account gives you access to one Fleet account. You also get access to the FLEET Manager which allows you to access FLEET and manage your scans on a browser on your desktop. 
How do I subscribe?
Click the Subscribe button in the FLEET mobile app on your Android or iOS device or in the FLEET Manager on your desktop. 
When will my account be charged?
Your Fleet subscription will automatically renew every month. You will be charged 24 hours prior to the monthly renewal date listed at the top of your FLEET Account. The monthly renewal date is based on the day you subscribed to FLEET. To stop automatic renewals, turn off the auto-renew setting in your Stripe account at least 24 hours before the end of the monthly subscription period.
How do I cancel my subscription?
To cancel your subscription you signed up for through Stripe, take the following steps:
Go to the Account section of FLEET, navigate to the "Manage Subscription" section of your account.

Tap the "Cancel my subscription" button.

A confirmation modal will pop up and you will tap "Cancel" to cancel your subscription.
If you have any issues canceling, or have any questions about your subscription, we are happy to help!
How do I print?
PixoVIN offers custom print stylesheets to enhance your FLEET experience. Each print stylesheet is unique, and requires custom effort to create. To receive a quote to add printing to your FLEET account, please fill out our contact form.
Once your custom print stylesheet has been enabled, your export option to Print your export will be turned on.
Before you can print from FLEET, you must enable mobile printing on your device and make sure you have access to a mobile-enabled printer compatible with your device.
Follow these helpful links for setting up your device to print:
iOS
To print from your iPhone or iPad, you will use AirPrint with an AirPrint enabled Printer. Please make sure your printer is on this list of AirPrint Printers.
If you are having issues with AirPrint, please visit Apple's support page about how to print.
Android
Many printers come with an Android mobile app or plugin to enable printing. Follow the instructions on your mobile-device-enabled printer to continue.
Helpful third-party article about printing from Android phones and Tablets.
Google Cloud Print is another way to print from an Android Device. This article has information about setting it up.
Additional Google Cloud printing resources:
List of printers for Google Cloud print.